Interfraternity Council stands with survivors
Three Western Illinois University chapters of the Interfraternity Council hung banners from their houses Thursday to stand with rape and sexual assault victims.
Sigma Chi, Alpha Gamma Rho and Pi Kappa Phi all hung bed sheet banners highlighting the importance of getting consent before performing any types of sexual activity.
"The idea behind the banners came from other fraternities across the country that also showed support for sexual assault victims," Matthew Hutchison, Vice President of Internal Relations said. "With Take Back the Night being such a huge event at Western, we wanted the IFC community to show our support for an event that has a very powerful impact on those affected by sexual assault."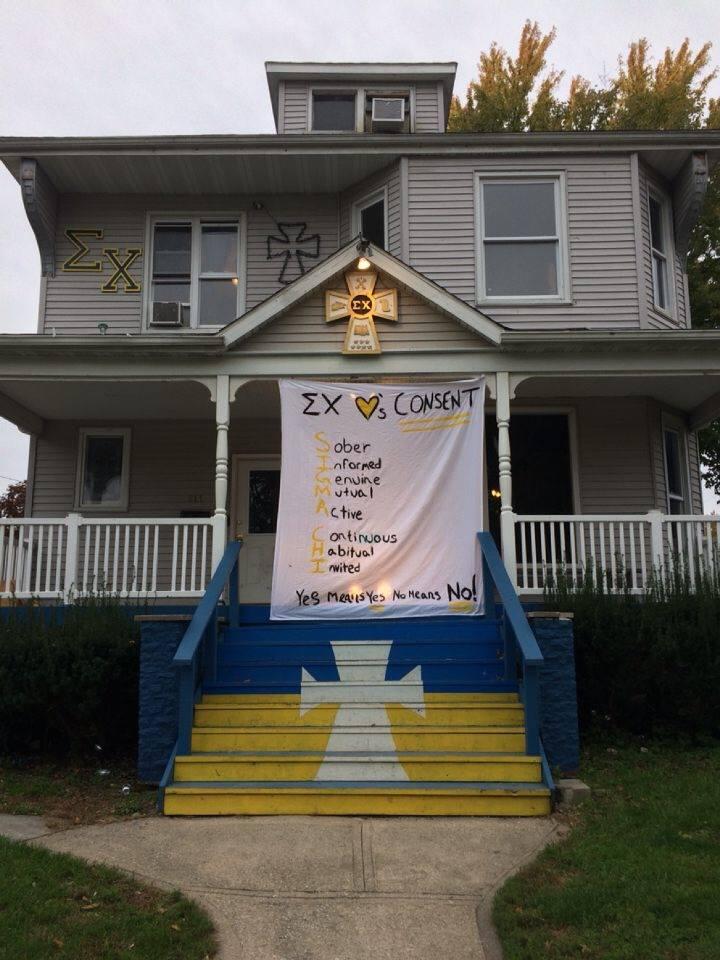 According to Office of Public Safety's weekly crime reports, four sexual assaults have been reported in the month of October alone, one of the attacks dating back to August of 2015. This years theme for Take Back the Night was "Consent: Can you hear me now?" and the men of IFC wanted everyone to know that proper consent is important when it comes to sexual activity because if it is not received, it is considered sexual assault.
"Sexual activity of any kind requires consent," Western's Sexual Misconduct and Gender Non-Discrimination Policy (Title IX) reads. "Consent is defined as an informed, voluntary, and freely given agreement between participating individuals to the sexual conduct in question. Consent to engage in mutually agreed upon sexual activity is clearly communicated in words and/or actions. Consent must be acquired prior to and contemporaneously with sexual activity."
Hutchinson explains why the IFC decided to stand up, create a change and show support for the community around them.
"This school year, chapters of the Interfraternity Council really came together along with the IFC Executive board wanting to show Western and the Macomb community that fraternities here live their values every day," Hutchinson said.
Friendship, justice, present a positive image, leadership, accountability and responsible citizenship are just a handful of those values the men strive to live by, hence the reason they found it prominent to spread awareness and create a change in rape culture.
"The goal of the consent banners was to reaffirm that the Interfraternity Council and Greek Life here at Western stands with survivors, and that sexual assault has no place on our campus," IFC President Brady Smith said. "Shedding light on consent is pertinent."
Smith goes on to explain how one in three women worldwide are victims in their lifetime and one in six men are believed to be as well. Not to mention over 50 percent of cases don't get reported to police.
"We hope that showing the importance of these issues and that we stand with survivors, will encourage survivors to come forward and will help to eliminate the problem," Smith said.